Personal Development
Can we stay in touch?
        I will keep your information safe;
I will not send boatloads of email.
           Promise, promise.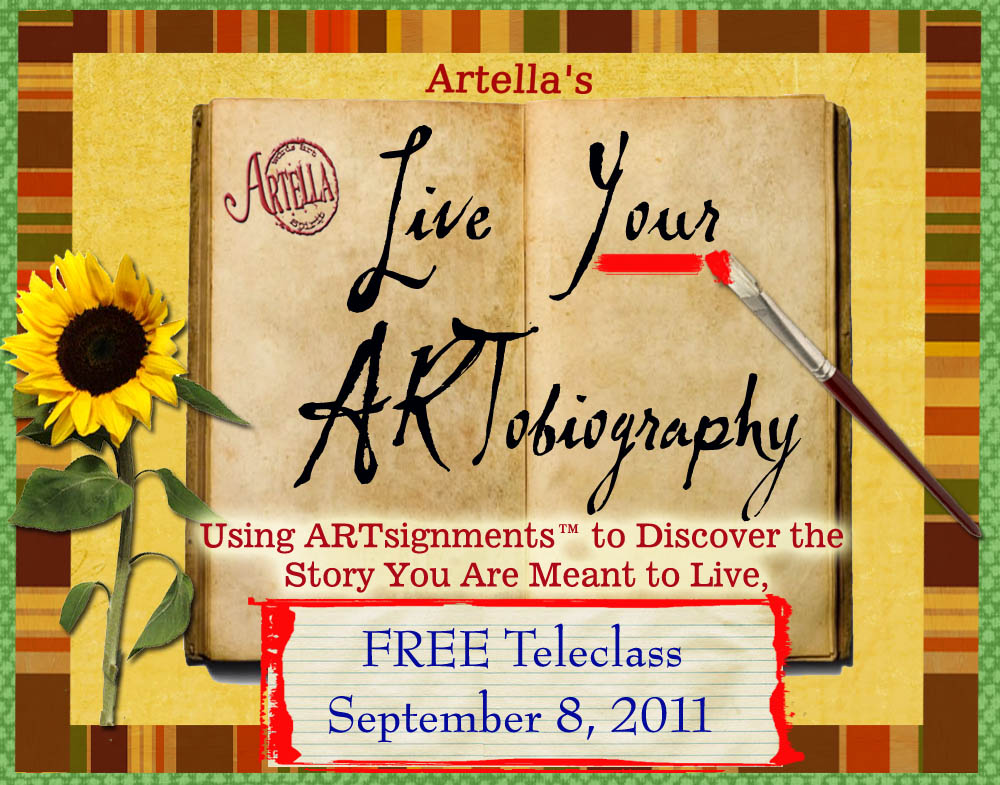 1. NEW! Free ARTbundance™ Teleclass…Live Your ARTobiography! Join me and some very special guests for Live Your ARTobiography: Using ARTsignments™ to Discover the Story You Are Meant to Live, a playful and practical free teleworkshop in which you'll learn how to use art, creativity, and storytelling as powerful new tools to discover and live the life you were meant to live.
This fun workshop is based on ARTbundance™ philosophy, which is all about tapping into the universal wellspring of creative wisdom to make powerful changes in our lives as we capture the power of creativity and actually use it as a life-transforming tool with real, practical results.
In this very exciting free event, I'll be joined by some of Artella's ARTbundance™ Certification Training Alumni, as well as my ultra-special guest, Brian Andreas, the creator of Storypeoplebooks and products, who will share from his vast treasure chest of knowledge about the role of "story" in our lives.
It will be one great big party as we all share practical tools to easily and joyfully discover new insights about your path and how to make your story come to live!
Live Your ARTobiography: Using ARTsignments™ to Discover the Story You Are Meant to Live is a free teleclass to be held on Thursday, September 8, at 9:00pm Eastern Time (8:00 Central, 7:00 Mountain, 6:00 Pacific), taking place via telephone conference line.
Sign up for this free class and you will….
Engage in transformative tools to learn how to transition from living your "oughtabiography" to your "artobiography", so you can do more of what you love, more of the time.
Participate in hands-on ARTsignments™ – fun exercises to help unveil new insights about the story you are meant to live!
Hear candid personal stories from me, Storypeople's Brian Andreas, and ARTbundance™ Graduates, with our best examples for bringing the power of story to life.
Receive a dynamic follow-up workbook including inspiring and effective ARTsignments™ that harness the ARTbundance™ Principles to uncover even more new sources and opportunities for tapping into the story you are meant to live.
For those also interested in hearing more about the Fall 2011 ARTbundance™ Certification Training Program, you are invited to stay for a fun gathering after the call, where you'll hear directly from actual ACT graduates, and get full details about applying for the 2011 ARTbundance™ Certification Training program
To join us for the free Live Your ARTobiography teleclass on Thursday, September 8, sign up here!
*******************************************************************************************
Money Keys Monthly Community Calls 2011
1st Tuesday of every Month, 5pm pacific
Next Call: Tuesday September 6th, 5pm pacific
"Time and Money:  How your Relationship with Circulation, Labor and Time Affect your Prosperity"

All are welcome on the first Tuesday of the month for our open Money KeysCommunity Call.  You get access to a lively conversation led by me, Rev. Karen, teaching, mentoring and inspiring one another to greater peace, freedom and possibility.  I love these calls and hope you join live or listen in to the replay.Each call is designed for you to have a greater understanding of how the universal principles of the Money Keys—Unity, Co-Creation and Circulation, really work and for you to increase your financial faith, skill and confidence.

We'll be focusing on: ''Time and Money: How your Relationship with Circulation, Labor and Time Affect your Prosperity.'
Money Keys Community CallTuesday September 6th'Time and Money: How your Relationship with Time, Labor and Circulation affect your Prosperity'

5pm Pacific / Arizona

6pm Mountain, 7pm Central, 8pm Eastern

I love the Maestro Conference service we're using.  You're able to ask questions, 'chat' in breakout groups, and share feedback with me and the guest experts easily.** If you registered at any time in 2010, we eliminated duplicates and rolled over your registration for call in #'s and PINS to 2011, so there's no need to register again.  If you're not sure, just emailcustomercare@themoneykeys.com and we'll confirm your call in # and PIN. **
New to coming on the calls? Click below to register one time for the whole of 2011. Each month on the first Tuesday you'll get a reminder email with your dial in # and personal PIN.
Click here to Register for 2011 Community Calls
Miss the live call?  We have a full Archive of Call Replays:Click here to visit our Event Calendar

Money Keys Monthly Community Calls 20111st Tuesday of every Month, 5pm pacific

Next Call: Tuesday September 6th, 5pm pacific

"Time and Money:  How your Relationship with Circulation, Labor and Time Affect your Prosperity"


All are welcome on the first Tuesday of the month for our open Money KeysCommunity Call.  You get access to a lively conversation led by me, Rev. Karen, teaching, mentoring and inspiring one another to greater peace, freedom and possibility.  I love these calls and hope you join live or listen in to the replay.Each call is designed for you to have a greater understanding of how the universal principles of the Money Keys—Unity, Co-Creation and Circulation, really work and for you to increase your financial faith, skill and confidence.

We'll be focusing on: ''Time and Money: How your Relationship with Circulation, Labor and Time Affect your Prosperity.'

Money Keys Community CallTuesday September 6th'Time and Money: How your Relationship with Time, Labor and Circulation affect your Prosperity'

5pm Pacific / Arizona

6pm Mountain, 7pm Central, 8pm Eastern

I love the Maestro Conference service we're using.  You're able to ask questions, 'chat' in breakout groups, and share feedback with me and the guest experts easily.** If you registered at any time in 2010, we eliminated duplicates and rolled over your registration for call in #'s and PINS to 2011, so there's no need to register again.  If you're not sure, just emailcustomercare@themoneykeys.com and we'll confirm your call in # and PIN. **
New to coming on the calls? Click below to register one time for the whole of 2011. Each month on the first Tuesday you'll get a reminder email with your dial in # and personal PIN.
Click here to Register for 2011 Community Calls
Miss the live call?  We have a full Archive of Call Replays:Click here to visit our Event Calendar



Money Keys Monthly Community Calls 2011
1st Tuesday of every Month, 5pm pacific
Next Call: Tuesday September 6th, 5pm pacific
"Time and Money:  How your Relationship with Circulation, Labor and Time Affect your Prosperity"

All are welcome on the first Tuesday of the month for our open Money KeysCommunity Call.  You get access to a lively conversation led by me, Rev. Karen, teaching, mentoring and inspiring one another to greater peace, freedom and possibility.  I love these calls and hope you join live or listen in to the replay.Each call is designed for you to have a greater understanding of how the universal principles of the Money Keys—Unity, Co-Creation and Circulation, really work and for you to increase your financial faith, skill and confidence.

We'll be focusing on: ''Time and Money: How your Relationship with Circulation, Labor and Time Affect your Prosperity.'
Money Keys Community CallTuesday September 6th'Time and Money: How your Relationship with Time, Labor and Circulation affect your Prosperity'

5pm Pacific / Arizona

6pm Mountain, 7pm Central, 8pm Eastern

I love the Maestro Conference service we're using.  You're able to ask questions, 'chat' in breakout groups, and share feedback with me and the guest experts easily.** If you registered at any time in 2010, we eliminated duplicates and rolled over your registration for call in #'s and PINS to 2011, so there's no need to register again.  If you're not sure, just emailcustomercare@themoneykeys.com and we'll confirm your call in # and PIN. **
New to coming on the calls? Click below to register one time for the whole of 2011. Each month on the first Tuesday you'll get a reminder email with your dial in # and personal PIN.
Click here to Register for 2011 Community Calls
Miss the live call?  We have a full Archive of Call Replays:Click here to visit our Event Calendar

Money Keys Monthly Community Calls 20111st Tuesday of every Month, 5pm pacific

Next Call: Tuesday September 6th, 5pm pacific

"Time and Money:  How your Relationship with Circulation, Labor and Time Affect your Prosperity"


All are welcome on the first Tuesday of the month for our open Money KeysCommunity Call.  You get access to a lively conversation led by me, Rev. Karen, teaching, mentoring and inspiring one another to greater peace, freedom and possibility.  I love these calls and hope you join live or listen in to the replay.Each call is designed for you to have a greater understanding of how the universal principles of the Money Keys—Unity, Co-Creation and Circulation, really work and for you to increase your financial faith, skill and confidence.

We'll be focusing on: ''Time and Money: How your Relationship with Circulation, Labor and Time Affect your Prosperity.'

Money Keys Community CallTuesday September 6th'Time and Money: How your Relationship with Time, Labor and Circulation affect your Prosperity'

5pm Pacific / Arizona

6pm Mountain, 7pm Central, 8pm Eastern

I love the Maestro Conference service we're using.  You're able to ask questions, 'chat' in breakout groups, and share feedback with me and the guest experts easily.** If you registered at any time in 2010, we eliminated duplicates and rolled over your registration for call in #'s and PINS to 2011, so there's no need to register again.  If you're not sure, just emailcustomercare@themoneykeys.com and we'll confirm your call in # and PIN. **
New to coming on the calls? Click below to register one time for the whole of 2011. Each month on the first Tuesday you'll get a reminder email with your dial in # and personal PIN.
Click here to Register for 2011 Community Calls
Miss the live call?  We have a full Archive of Call Replays:Click here to visit our Event Calendar



Money Keys Monthly Community Calls 2011
1st Tuesday of every Month, 5pm pacific
Next Call: Tuesday September 6th, 5pm pacific
"Time and Money:  How your Relationship with Circulation, Labor and Time Affect your Prosperity"

All are welcome on the first Tuesday of the month for our open Money KeysCommunity Call.  You get access to a lively conversation led by me, Rev. Karen, teaching, mentoring and inspiring one another to greater peace, freedom and possibility.  I love these calls and hope you join live or listen in to the replay.Each call is designed for you to have a greater understanding of how the universal principles of the Money Keys—Unity, Co-Creation and Circulation, really work and for you to increase your financial faith, skill and confidence.

We'll be focusing on: ''Time and Money: How your Relationship with Circulation, Labor and Time Affect your Prosperity.'
Money Keys Community CallTuesday September 6th'Time and Money: How your Relationship with Time, Labor and Circulation affect your Prosperity'

5pm Pacific / Arizona

6pm Mountain, 7pm Central, 8pm Eastern

I love the Maestro Conference service we're using.  You're able to ask questions, 'chat' in breakout groups, and share feedback with me and the guest experts easily.** If you registered at any time in 2010, we eliminated duplicates and rolled over your registration for call in #'s and PINS to 2011, so there's no need to register again.  If you're not sure, just emailcustomercare@themoneykeys.com and we'll confirm your call in # and PIN. **
New to coming on the calls? Click below to register one time for the whole of 2011. Each month on the first Tuesday you'll get a reminder email with your dial in # and personal PIN.
Click here to Register for 2011 Community Calls
Miss the live call?  We have a full Archive of Call Replays:Click here to visit our Event Calendar

Money Keys Monthly Community Calls 20111st Tuesday of every Month, 5pm pacific

Next Call: Tuesday September 6th, 5pm pacific

"Time and Money:  How your Relationship with Circulation, Labor and Time Affect your Prosperity"


All are welcome on the first Tuesday of the month for our open Money KeysCommunity Call.  You get access to a lively conversation led by me, Rev. Karen, teaching, mentoring and inspiring one another to greater peace, freedom and possibility.  I love these calls and hope you join live or listen in to the replay.Each call is designed for you to have a greater understanding of how the universal principles of the Money Keys—Unity, Co-Creation and Circulation, really work and for you to increase your financial faith, skill and confidence.

We'll be focusing on: ''Time and Money: How your Relationship with Circulation, Labor and Time Affect your Prosperity.'

Money Keys Community CallTuesday September 6th'Time and Money: How your Relationship with Time, Labor and Circulation affect your Prosperity'

5pm Pacific / Arizona

6pm Mountain, 7pm Central, 8pm Eastern

I love the Maestro Conference service we're using.  You're able to ask questions, 'chat' in breakout groups, and share feedback with me and the guest experts easily.** If you registered at any time in 2010, we eliminated duplicates and rolled over your registration for call in #'s and PINS to 2011, so there's no need to register again.  If you're not sure, just emailcustomercare@themoneykeys.com and we'll confirm your call in # and PIN. **
New to coming on the calls? Click below to register one time for the whole of 2011. Each month on the first Tuesday you'll get a reminder email with your dial in # and personal PIN.
Click here to Register for 2011 Community Calls
Miss the live call?  We have a full Archive of Call Replays:Click here to visit our Event Calendar